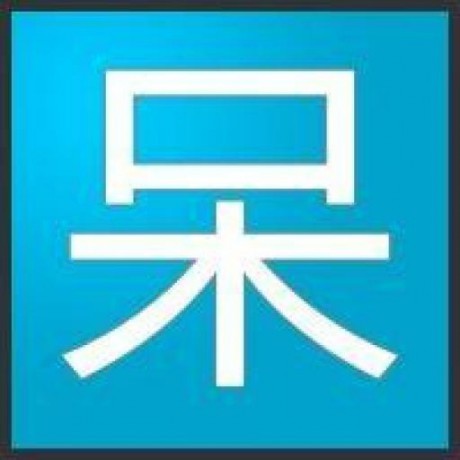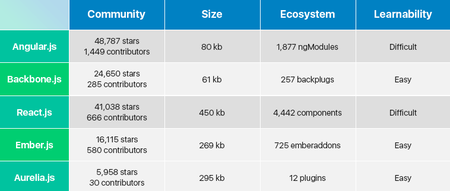 Top 5 JavaScript Frameworks -
Choosing the right Javascript framework for your project can have a huge impact on your ability to deliver on time, and your ability to maintain your code in the future. You probably want a stable, solid, and proven framework to build upon, but do not want to be limited by your choice.
The web is evolving fast— new technologies arise, and old methodologies quickly become irrelevant. Under this light, we are going to go through an in-depth comparison of the 5 best JS frameworks i.e. Angular.js, Backbone.js, React.js, Ember.js and Aurelia.js.
These frameworks have a lot of things in common. There are, of course, differences that make them special and also matter to those who are trying to find the best option for web app development. Let's generalize some basic information for JavaScript framework comparison to understand the state of things even more clearly.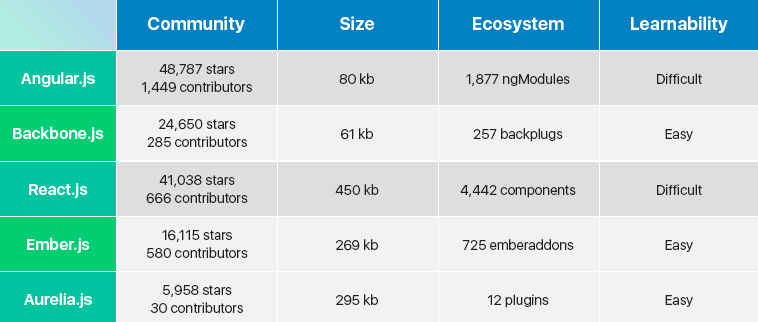 source: mlsdev
Besides above data we could analyze general interest to the frameworks over time according to Google: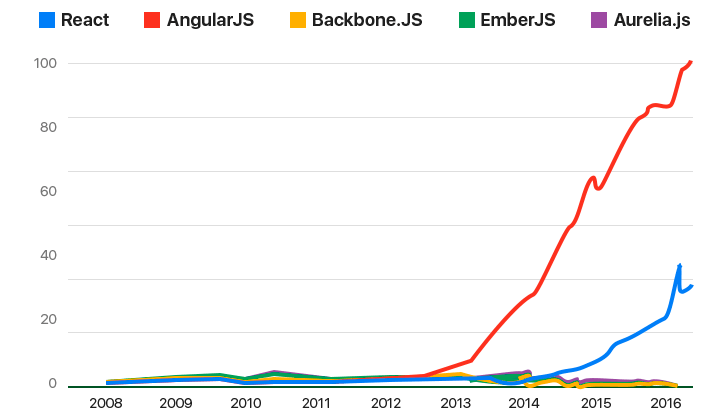 source: mlsdev
Not a surprise to see AngularJS, marked in red, beat its competitors in the contest. This framework still remains the most popular among web developers.
---
Pros and Cons of Popular JS Frameworks
1. Angular.js

The framework was released in 2009 what makes it quite old. In spite of this, it seems to be the most beloved JavaScript web framework for building single page applications. It is available as an open source solution and is supported by Google. The latter is a convincing argument in favor of Angular to become a front-end solution for a web app.
Among its popular users are GoDaddy, Forbes, Udemy, Ford, The Oscars, NBA, etc. The top countries where the framework is being searched are India, Belarus, Sri Lanka, Israel, Bangladesh.
Pros Cons
Two-way binding with the DOM programming interface (automatically synchronizes the view and the model) Complexity of the background knowledge necessary to work with the framework effectively
Properly documented architecture Troubles with search engine indexability in single page applications (crawlers cannot access JavaScript and reach only static pages)
Possibility to create custom DOM elements (directive) Difficulties with debugging scopes
Aimed at making application testing easier Negative influence of many DOM elements on performance
Supported by Google which means more innovations
Great community that is always ready to answer questions and assist in solving issues
Works well with the $resource module that allows good interaction with back-end
---
2. Backbone.js

Backbone.js first saw the world in 2010. Its authors initially positioned it as lightweight and so it is until now. Probably, this is the main reason why it belongs to the best Javascript frameworks.
The name really reflects the core functionality that is good for either simple or complex web applications. This reputation is supported by Backbone's biggest users, such as Foursquare, Pinterest, Kanban Tool, Sony Entertainment Network. The framework is available open-source and is quite easy to learn. It is most searched in India, Ukraine, United States, Canada, and Japan.
Pros
Cons
Small in size, simple and fast No two-way data binding that causes the use of boilerplates
Quite easy to learn Difficulties with testing code
Flexible (it is possible to develop anything on top of its minimal base) Slow release of updates
Clear structure that enables good performance Lack of features that could make it stand out from the range of other frameworks
Possibility of templating with third-party libraries Requires good developer experience to work with a great number of third-party libraries
Active community
---
3. React.js

If you like the user interface of Facebook and Instagram then you might like React.js too. This very framework is behind the front-end scenes of the two social giants. There are other companies that benefit from using it: Atlassian, BBC, Coursera, Dropbox, Flipboard, Netflix, Paypal, WhatsApp.
React.js was created by the team of Facebook developers and came out in 2013. Being pretty new in comparison with other JavaScript frameworks it confidently wins its niche. Countries with the highest interest in it include Singapore, Philippines, Norway, Czech Republic, and the United States.
Pros
Cons
The most rapidly developing JavaScript framework Difficult to master for a newbie in web development
Fast growing community Lack of properly done documentation
Reusability of code due to react components The framework is not full enough and a developer needs some experience to be able to choose additionally required libraries
One-way data flow that is very good in web UI
Virtual DOM that speeds updates
Native libraries, released in 2015, that reveal React advantages for mobile apps (iOS, Android)
Easy to debug
---
4. Ember.js

Introduced in 2011 this open-source JavaScript framework was named the best in 2015. Its closest competitors are Angular and React. Ember could be a good solution for a startup or for a business looking to build complex web apps.
Ember community is quite big and active. The framework itself seems not to disappoint its followers. It is being constantly updated and changes are introduced pretty often. Its advantages have been appreciated by Yahoo, ZenDesk, Groupon, TED, Microsoft, KickStarter and so on. People from Canada, India, the United States, Germany, and the United Kingdom have the strongest relevant search habit.
Pros
Cons
Active community Rather large in size
Constant development of features High-level structure that can sometimes lead to code breaks
Very simple to learn Sometimes unable to process quick changes to code;Sometimes unable to process quick changes to code
Stable performance Outdated documentation and tutorials can be found on the web from time to time
Ability of self-configuration
Two-way data binding
Fast speed of load and run
---
5. Aurelia.js

Aurelia is a child of 2015. It is an official open-source product of Durandal that is famous for creating various tools, libraries, and frameworks. The reputation of its creators speaks for itself, so you can be sure that it will be under professional guidance. The community of experts will take care of that.
Being very young Aurelia.js has already earned a place in the ranking of the best JavaScript frameworks for promising perspectives. Developers observe its progress precisely and some of them try to build first web apps with it. The most interested searchers of Aurelia.js live in the United States, India, Poland, Bangladesh, and Finland.
Pros
Cons
Neat documentation; New to the world of development so needs more time to be accurately discovered.
Structure (Aurelia.js consists of modules that can be used as a full framework or separately);
Two-way data binding that automatically synchronizes module with user interface;
High testability of code;
Various additional tools;
Commercial support from its creators.
---
Wrapping Up:
All these frameworks are used to make the user interface of your web app work fine and smoothly.The list of the best JavaScript frameworks is not limited to five only. This quick overview is aimed at helping you out in case you need to decide upon one of them.
If you have any query related to JS frameworks or you want to develop your site on any JS framework, you can contact Markupbox: the leading JS web development company.

Post comment
Link
Newest | Oldest
Search for:
Markupbox Newsfeed
Sign up for the Markupbox newsfeed by adding your email address in the form below:
Email *
Category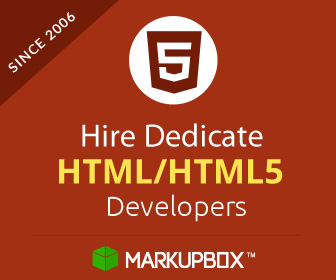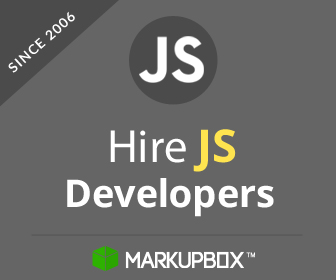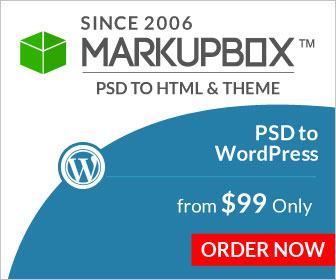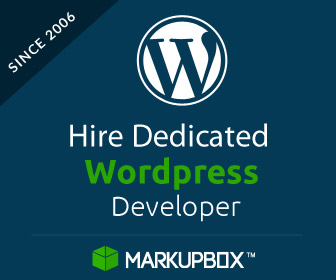 Popular Posts
Recent Posts
E-Commerce
Hire Developers
Company
Our Promise




USA: +1 404 857 1565, UK: +44 192 360 6144
Price Match Guarantee
MarkupBox offers a price match guarantee for complete peace of mind. If you are able to get a lower quote from an equitable provider for the same set of deliverables, we would not only match the price but beat the price by an additional 5%!
Our Technologies :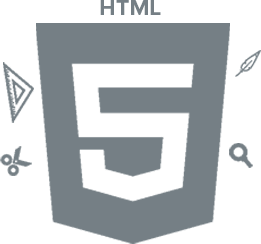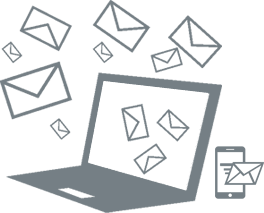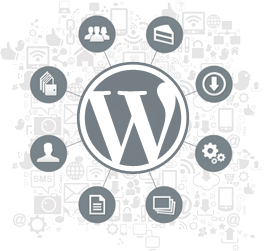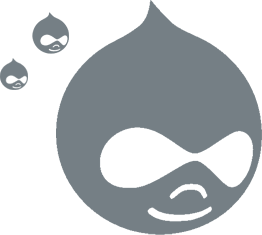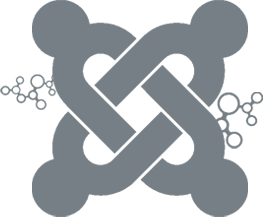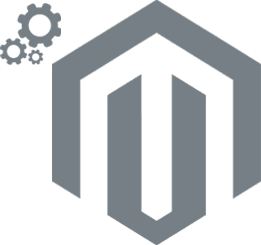 100% GUARANTEE
All our solutions are customer-oriented ‐ and even our policies. Following are the highlights of our guarantee policy.
If you're not satisfied with our results, we'll give you back all the money you invested in us. But we never let this situation come, and with the sweat of our brow, we strive to meet your requirements and to exceed them
.